A personal Christmas message from our vicar, Rev Nicky Davies:
I want to thank all those people who offered support, dropped off food and other goodies, sent lovely photos, cards and other messages and who prayed for me as I was unwell during November with the Coronavirus. It was a challenging and distressing time and gave me insight into how people feel who, for whatever reason, are isolated, alone or living with an illness. I still get tired quickly and would urge you to continue to be vigilant, especially as a new variant is among us.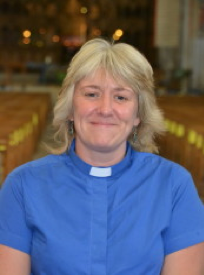 As we celebrate Christmas, we look to the hope of Jesus coming as a baby – God with us, Immanuel. God comes, we are not alone. And as we gather together with family, friends and as church families, we can know we are loved by them and by God: 'God loved the world so much that he sent his only son…'
I believe feeling 'connected' is so important and I wish you the most joyous of Christmas get-togethers and celebrations in a Covid safe way. As church, we continue to offer worship wearing masks and following other guidance, including spacing, hand sanitiser and airflow. You will find a warm welcome at our Christmas services. I hope you will discover something that helps you feel connected to God.
Wishing you a very Happy Christmas.
Nicky