The chancel area is dominated by the great east window, built in the Perpendicular style, probably about 1500.  It received attention in 1889, and was again carefully restored in 1973.  The modern reglazing is mainly of plain glass, but in which the representations of the arms of the Sees of Canterbury and Exeter are prominent.  At the upper points of the tracery may be seen portrayals of the two medieval wall paintings.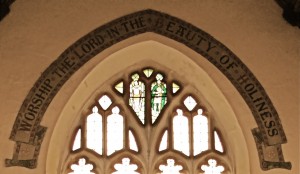 On the  northern wall of the sanctuary is an interesting ancient altar tomb underneath an obtusely-pointed recess, with a sculptured effigy of a Priest or Prior in chasuble and dalmatic (both are ecclesiastical vestments), his hands crossed piously on his breast, his head resting upon a pillow, and an animal – maybe a lion or a talbot – at his feet.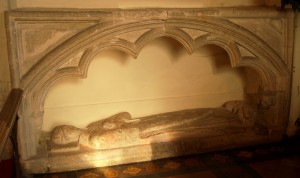 Some believe that the figure is that of Roger Hariel, Prior of Loders and Vicar of Axmouth from 1320 to 1323/4. Whatever his true identity, it is fairly certain that the occupant of the tomb is either  the holder of the living, or else some ecclesiastical functionary at Loders, and who was a liberal contributor to the cost of rebuilding or major works then necessary.
On the opposite, or south, wall of the sanctuary is an Early English double-light window, blocked up for generations before being opened out in 1889, when it was glazed with coloured glass and a devotional text. The design of this window is thought by some experts to be superior to the usual standard of Victorian glasswork.
Next to this window is a handsome brass wall tablet, erected to the memory of John Real (1843-1919), a member of one of the old Axmouth village families, and a shoemaker by trade. He also served as Postmaster from 1890 until 1916, as a member of the church choir for sixty years, and as Churchwarden for nine years.  The memorial was placed there by the parishioners of Axmouth as a tribute to his integrity as a Christian and his loyalty as a churchman.  He is buried nearby, in the churchyard.
Another small window of the Early English period may be seen on the north side of the chancel, to the left of the organ.  Again, its glass is of 1889 and was presented by Caroline Pridham, mother-in-law to the Revd Davis, Vicar of Axmouth at the time.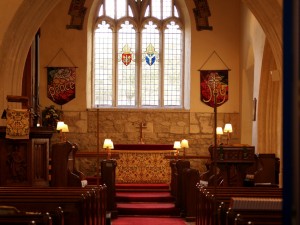 The area around the Holy Table presents a somewhat severe aspect, perhaps reflecting the evangelical traditions of the Church in Axmouth.  The eastern wall was stripped of its curtaining some years ago, and the natural stone exposed, with the intention of making it a feature.  Two of the stones thus revealed show traces of more medieval painting.  Others indicate the former proportions of the window.