There is little or no written documentation to support the various historical theories advanced by scholars over the last two centuries, and this has ensured that there is no consensus of opinion on the unfolding of events.  However, the Iron Age hill fort which overlooks the village provides clear evidence of the earliest known historic associations of the district.  Hawkesdown Hill, (formerly Hochdun) is believed to have been a defensive position of the Durotriges, the Ancient British tribes of Dorset, against the Danmonii, from further west into Devon.  A few miles to the north, another fort in the chain, Musbury Castle, also overlooks the Axe Valley.  Here footpaths are available, but, unfortunately, there is now no public access to Hawkesdown.  There used to be  a legend of a ghostly warrior, with a fire-eating dog, haunting the earthworks, and these are mentioned, along with accounts of Axmouth, its smuggling and its cliffs, in the nineteenth-century (recently republished) novel Winifred, by Sabine Baring-Gould.
Axmouth seems to have been an important port in British times, when trade links were established across the Channel.  Ridgeways converged were established across the Channel.  Ridgeways converged upon the Axe Valley, including a branch of the Icknield Way, and another route, later improved by the Romans, the Fosse Way.  In the Roman period, the river estuary at Axmouth was considerably wider than today, navigable for several miles upstream, and used by the largest vessels of the day.  For a while, the Axe is said to have marked the limit of the Roman occupation, and it is possible that Vespasian and his Second Legion were stationed around here prior to their advance upon Exeter in AD 49.  After this, the Roman road through Honiton became the principal route to the west, so that the original section, thought by some to have been part of the Fosse Way, diminished in importance.  This would account for the uncertainty of some of its course today, even though traces are said to have been found as far south as the gate of the Old Vicarage in Axmouth.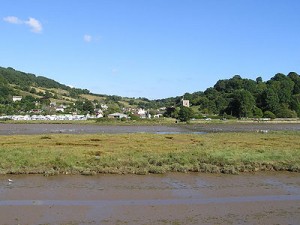 Evidently another road approached the village from Dorchester and has been identified near Heathfield Cross.  The lane through Charton, Dowlands, and the Golf Course, to the present-day Axmouth Bridge, is also of obvious antiquity. East of Charton this way is now closed but the rest of it still exists as country lane or bridle path.