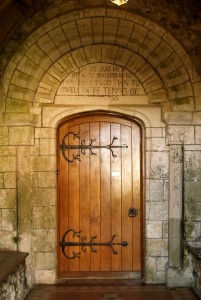 The original north doorway already mentioned, with its octagonal columns, capitals, and lintel, carved with the elaborate chevron or zig-zag pattern so typical of Norman work, has been well preserved by the addition of a later porch, probably dating from around 1500.  For many years, up to 1887, this had its outer entrance bricked up, and could only be accessed from inside the church, which it served as a vestry.  The stone tympanum has been defaced by a crudely-executed Biblical quotation with the date 1698, and which may have been placed there on the instructions of one of the early Halletts.  The contractions of the letters 'TH' are interesting.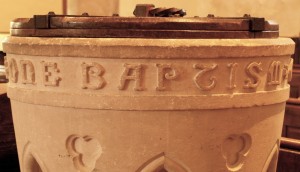 Entering, to the right stands the font.  This was made by a local stonemason who lived close to the church, and was placed in its present position as part of the 1889 restoration project.  The older font, which it replaced, has disappeared without trace.
Behind the font may be seen the wall tablet which was erected to honour the local men who lost their lives in two world wars. Another monument stands outside in the churchyard, and there is a further note on both memorials on this site.
Just to the left of the War Memorial, a stained glass window was inserted in February 1890, to replace the old plain glass previously there.  It was given by Colonel Clements Thomas Hallett as a thank-offering for the safe deliverance of himself and his family during the Indian Mutiny of 1857.  It depicts the Baptism of Christ, a subject selected because of its position above the font.  An inscription incorporated in the glasswork records the details of the gift.  The artist employed, both in design and execution, was Frederick Drake of Exeter.
The other large window on the north wall contains glass placed there in 1889, and given by other members of the Hallett family.  Prior to the restoration, a small upper window, now blocked, existed on this wall, and this probably gave light to the old gallery.
On the northern side of the tower wall of the nave may be seen a handsome modern tablet, erected to the memory of Admiral Sir Francis and Lady Miriam Pridham. Sir Francis, as he later became, was the nephew of the Revd S. C. Davis, the Vicar of Axmouth who provided the principal motivation for the restoration work of the 1885-1889 period, and who, with members of his family, is also commemorated on another wall plaque just behind the main entrance doorway.
Sir Francis had been baptised by him in 1886.  The next incumbent at Axmouth was the Rev Arthur Lewis, Vicar from 1892 to 1896, whose daughter Miriam was later to marry Sir Francis at Chardstock Church in 1911. After a distinguished Naval career, Sir Francis retired about 1944, and returned with Lady Pridham to live in the village, at Millmead.  They stayed there for about twelve years before moving away.