Erle Monument
Passing into the Bindon Chapel, a large, roughly-carved stone monument is prominent against the south wall.  The inscription, of the Commonwealth period, remains perfectly legible, and commemorates the only son, Thomas, and the wife, Anne, of Sir Walter Erle.  He had been knighted in 1616, but subsequently lost favour in royal circles, and took an active part in the Civil War, on the Parliamentary side.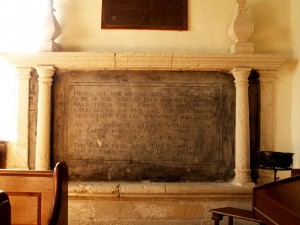 The Erle family had come into the possession of Axmouth in 1552, when an earlier Walter Erle, then one of the grooms of the Privy Chamber, was given it by King Edward VI.  They owned other estates, around Colyton, and at Charborough, Dorset, near Wimborne, where the later Sir Walter seems to have made his main residence, and where he died in 1665, being buried in East Morden, nearby.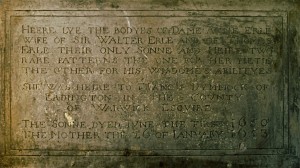 Several of the Vicars of Axmouth were presented during the 16th and 17th centuries under the patronage of various members of the Erle family. Dame Anne, one of the names on this memorial, and who died on 26 January 1653 (-4), was the daughter of one Francis Dymock who lived in Erdington Hall, its site now in a rather drab area of northern Birmingham.  Gradually encroached upon by industrial development, it fell into decay and was demolished in 1911.
Chappell Memorial
Above the Erle monument is a much more recent bronze tablet, erected to the memory of Brigade-Surgeon John James Chappell, of 2nd Dragoon Guards, Queen's Bays.  He had been born at Bindon in 1833, and after qualifying in medicine, followed by a distinguished military career, he died in retirement in London, in 1918.  The Bindon property had passed from the Erles, via a succession of other owners, to the Chappell family in about 1830, and after the death in 1881 of James Chappell, it was inherited by his two sons, the younger James and his brother Thomas. Thomas ran the farm until 1884, when it was sold and he then lived at various addresses around the district. Both sons, as well as a sister, Alice, and their two parents, are buried here in the churchyard.