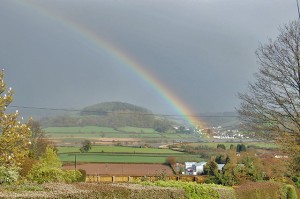 Thanks for this picture Ernie!
Axmouth Church is undergoing a period of change and transition.  There are big issues facing the church – any one of which might seem insurmountable in our own strength.  We have a deficit of £7000 per year and the diocese can no longer bail us out.  We have £60,000 worth of repairs to the tower; the heating has been condemned and we are using up the last bit of oil before it is shut down; Tony Wells (a retired minister) who has been helping lead the worship is stepping down at the end of May; and Alburn and Sue are leaving at the end of April meaning there will be no organist for the morning worship and no choir leader.  Things do not look good do they?  Perhaps there are echoes of it feeling like Easter Saturday – all hopes dashed and a bleak future.  Yet, those who loved and followed Jesus could not see that Sunday was about to happen and Sunday is about to happen at Axmouth Church!
There are signs that a new dawn is breaking in Axmouth and these give me a real hope and an optimism.  For starters the building is not going anywhere.  It has been there for getting on for a thousand years and it will certainly be there for another thousand.  It has survived conquests and world wars, plagues and pestilences.  But… the building is a metaphor for the real church – the people of God in Axmouth.  The church community in Axmouth has survived conquests and world wars, plagues and pestilences and is not going anywhere.  It has done this because it has adapted to change.
The church is not what happens on a Sunday.  That is our collective worship.  The church in Axmouth are the followers of Jesus who are called to be salt and light in the Axmouth Community.  We are a group of people called and commissioned by God to be his ambassadors to the whole village.  What an exciting and wonderful privilege!
There are signs of hope and new growth in the church.  Did you know that the church membership has actually grown over the past year?  Over 100 people turned up for our Christmas Storytime worship.  Hilary Harron, our Parish Assistant is training as a Church Leader and she is doing a super job – leading worship and making connections between the church community and village.  This past year the church has given hundreds of pounds to bless to the poor and needy in the world.  The Friends of Axmouth Church has grown and have been doing a wonderful job supporting the building and maintaining the churchyard.  The diocese have loaned us £3000  to see how we can develop the worship space in the church building.  We have also raised several thousand pounds to initiate a fresh expression of church that engages with all-ages in the village.  These are good and wonderful things.  Am I optimistic?  Yes!  Am I hopeful?  Yes!
So, may God bless the church in Axmouth.  May it trust in the God who raised Jesus early that Sunday morning.  May we fulfil our  calling to serve and bless the Axmouth Community, and may the peace of God be with us, now and forever.  Amen!