Ann Stuckey gave the final talk in our EcoTheology series this morning and based it on Colossians 1: 15-20, read as a team effort by Marisa Pope and her three daughters.  Hilary Harron took charge of the service and Rose Tidball led the prayers.
Here is the EcoTheology Tree!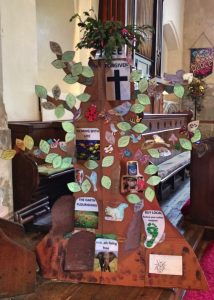 It was good to see children from three families at this All-Age Communion Service and they all added to the decorations of the tree.
Unfortunately there is no recording of the service this week.